Advances in technology rapidly change not only our daily lives (think movie theaters to VHS to DVDs to streaming!) but also every industry, including Medicine. In Sleep Medicine, which relies heavily on gathering information from a variety of sensors that are worn while one is asleep, most people are now tested for obstructive sleep apnea at home using portable devices instead of in a sleep laboratory. Sleep studies are being auto-scored by increasingly accurate algorithms. Redwood Pulmonary has embraced, developed, and employed advances in technology and care delivery from its inception.
When sleep care services for patients with Health Plan of San Mateo (HPSM) insurance were being eliminated by the Sequoia Hospital Sleep Disorders Center in 2014, RPMA took over the sleep center (now the Sequoia Sleep Center at Redwood Pulmonary Medical Associates) and approached HPSM to offer a bundled payment model of sleep care to its patients. Since then, thousands of patients who are under or uninsured have received the same high standard of sleep care from our offices as patients with Medicare and commercial insurance plans.
Dr. Lim recognized the growing number of patients suffering from sleep issues and the shortage of sleep specialists available to help them. In 2012, to address this problem, she hired a team of mobile app developers to create a self-help app for sleep called MobileSleepDoc Pro, which was made available on both iOS and Android platforms. MobileSleepDoc became an offshoot of RPMA, and later changed its name to Somnology, Inc. Somnology has grown into a digital healthcare company devoted to employing advanced technologies to deliver high-quality end-to-end sleep care, from screening to ongoing monitoring. RPMA and our affiliated sleep specialists provide clinical care for Somnology's enterprise clients that want sleep care for their users. RPMA also serves as Somnology's research and development ("R&D") arm. The close alignment between clinical services and technology enhances and accelerates both components of the sleep care continuum.
In 2021, Redwood Pulmonary introduced Salesforce Health Cloud (SFHC) into its practice as a platform to better understand patient population health trends while delivering pulmonary and sleep care. This system has already benefited more than 20,000 (and counting!) veterans we have screened for sleep apnea through our program with QTC. And we are poised to use SFHC to implement remote therapeutic monitoring for our patients at large.


Somnology, Inc.

At the core of Somnology's services is the Sleep Lab as a Service (SLaaS®) platform. Designed specifically for those affected by sleep disorders, SLaaS® offers a comprehensive, end-to-end service. It streamlines the journey from initial sleep assessment to personalized telehealth treatment to ongoing monitoring. This efficient pathway to manage sleep disorders has been proven to significantly reduce costs and time compared to traditional methods. Below are several devices that Somnology and RPMA are currently researching or employing as tools for screening, diagnosing and treating sleep disorders. Rest assured, your health data and telehealth meetings are securely encrypted to ensure HIPAA compliance.
With SLaaS®, you're not just accessing a service; you're embarking on a journey towards improved sleep health.


Devices
Screening
• SomnoRing®
The SomnoRing® is a medical-grade device that includes motion, pulse oximeter, and heart rate sensors. It measures continuous Oxygen Saturation (SpO2%) and provides an Oxygen Desaturation Index (ODI), valuable data for individuals with possible sleep apnea. Users can quickly synchronize their devices with the SomnologyMD mobile app and receive detailed sleep reports. These tools work together to monitor and analyze your sleep patterns, helping our providers tailor treatment plans to your unique needs. The SomnoRing® is available to Somnology's enterprise clients.
• SleepTalkAI (Coming Soon!)
Keep an eye out for Somnology's upcoming feature, SleepTalk AI Interviews. This advanced tool will provide a more comprehensive and personalized understanding of your sleep patterns, enabling us to cater to your specific needs more effectively. SleepTalk will facilitate sleep care for busy primary care providers, high-volume clinics, and patients with fast-paced lives.
---
Diagnosis
• SleepView®
In collaboration with CleveMed, we've integrated SleepView®, a user-friendly home sleep testing device, into Salesforce Health Cloud. This device allows us to diagnose sleep apnea in the comfort of your own home. SleepView® is equipped with eight testing channels that monitor various aspects of your sleep, including motion, body position, pulse oximetry, heart rate, and even snoring.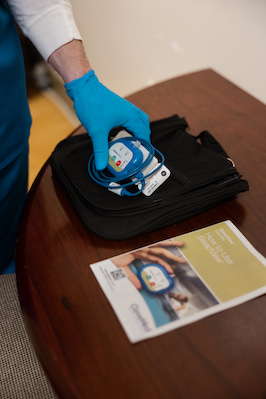 • ApneaLink®
ApneaLink® is a home sleep testing device ResMed developed to detect sleep apnea. It's a compact and lightweight device that records your breathing, oxygen levels, and heart rate during sleep. The device is user-friendly, with clear instructions and easy setup, making it a convenient option for at-home sleep apnea testing.
• Wesper
Wesper is a new sleep technology company that features a sensor patch and oximeter instead of the traditional airflow sensor placed in the nose. Two sensor patches are positioned on your torso and measure respiratory effort. The system is optimized for multinight testing, allowing RPMA to offer a personalized approach to our patients for obtaining a diagnosis.
• NightOwl
NightOwl is a home sleep test device that measures changes in arterial tone that correlate with changes in airflow. The device is one of the smallest home sleep-testing devices on the market. It is worn on the fingertip and monitors heart rate, oxygen levels, and breathing patterns during sleep.
• SleepImage
SleepImage is a clinically validated system that uses an oximeter worn at the base of the thumb to measure sleep quality, movement, pulse, and oxygen saturation. Airflow is calculated using measurements of cardiopulmonary coupling. Because of its simplicity, this device (and system) is ideal for remote, continuous monitoring of physiologic data.
• Advanced Brain Monitoring (PSG 2 and Sleep Profile)
Advanced Brain Monitoring offers the Sleep Profiler PSG2, a comprehensive sleep monitoring device optimized for home use. It provides detailed sleep architecture and identifies sleep disorders using EEG-derived sleep stages, respiratory analysis, and body position data.
• Polysomnography software
Polysomnography (PSG) software is a type of software used in sleep studies to analyze and interpret data collected during sleep. This software can process data from various sensors, including EEG, EOG, EMG, electrocardiogram, airflow, chest and abdominal movements, and leg movements to provide detailed information about sleep stages, sleep disorders, and overall sleep quality. PSG is considered the medical gold standard for a comprehensive view of your sleep physiology. However, it is cumbersome and costly and, therefore, not optimal for ongoing monitoring.
---
Therapeutic
• CPAP/BilevelPAP machines
CPAP (Continuous Positive Airway Pressure) and BiPAP (Bilevel Positive Airway Pressure) machines are used to treat sleep apnea. They work by delivering pressurized air through a mask to keep your airways open while you sleep. While CPAP provides a constant level of pressure, BiPAP provides a higher pressure when you inhale and a lower pressure when you exhale, making it feel more like natural breathing. At high pressure, BiPAP may be more comfortable than CPAP.
• FlowlyVR®
FlowlyVR® is a unique platform that combines virtual reality, biofeedback, and relaxation techniques to help manage pain, anxiety, and insomnia. It provides a range of interactive experiences designed to help you relax and take control of your health.


Research
Dr. Lim, in collaboration with the University of California San Francisco (UCSF), recently conducted a study exploring the potential of wearable sleep monitoring devices to improve sleep health among marginalized populations.
The study, titled "Acceptability and Usability of a Wearable Device for Sleep Health Among English and Spanish-Speaking Patients in a Safety Net Clinic: Qualitative Analysis," focused on the SomnoRing®, a wearable sleep monitoring device. The research aimed to evaluate the usability and acceptability of the SomnoRing® and its accompanying mobile app among patients treated in a safety net clinic.
The results were promising, with participants finding the SomnoRing® easy to use and comfortable to wear. The study also highlighted the importance of external factors such as family influence, housing status, access to insurance, and device cost in the overall acceptance of the SomnoRing®. Participants also expressed a desire for more assistance and information to best interpret their own sleep data summarized in the companion app.
Dr. Lim's participation in clinical research is a testament to our commitment at Redwood Pulmonary Medical Associates to leverage technology in improving patient care, particularly in the realm of sleep health.
UCSF Abstract
The objective of this research was to examine the usability and acceptability of a wearable sleep monitoring device, among a broad range of patients lacking adequate insurance coverage and a high percentage of native Spanish speakers. The participants, who were being evaluated for obstructive sleep apnea, used the device for a week and shared their experiences in an interview.
The results showed that the device was easier to use than other methods, and that support from healthcare professionals was a significant motivator. However, personal circumstances like living situations, insurance coverage, and understanding of sleep data affected the acceptance of the device.
Despite these barriers, the device was found to be useful, suggesting that with additional support and consideration of these factors, wearable devices like Somnology's SomnoRing® could be effectively used in diverse healthcare settings.