What is COPD?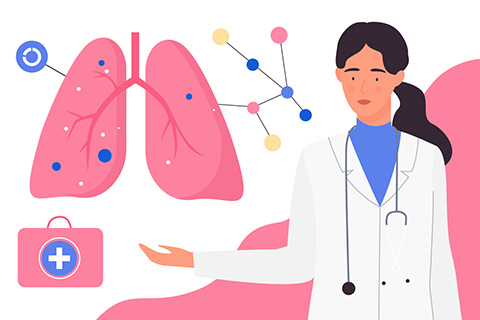 Chronic Obstructive Pulmonary Disease (COPD) is a common condition affecting millions of people. According to the World Health Organization, it is the third leading cause of death worldwide, affecting more than 200 million people globally.
Symptoms
Common symptoms include:
Shortness of breath
Wheezing (a whistling sound when you breathe)
Chronic cough
Fatigue
Frequent respiratory infections
Difficulty performing basic physical activities due to shortness of breath
Diagnosis and Management
At Redwood Pulmonary, we recognize the importance of accurate diagnosis and effective management of COPD. As leaders in the field of pulmonary medicine, we specialize in treating various conditions within the COPD family and have developed extensive expertise in providing long-term care for our patients.
To ensure a precise diagnosis of COPD, our approach involves conducting a comprehensive evaluation. This process encompasses a thorough review of your symptoms, a detailed physical examination, and the utilization of lung function tests. These tests enable us to assess the severity of your condition and guide us in formulating a personalized treatment plan.
Treatment
The treatment of COPD typically involves a multifaceted approach. Our team of experienced pulmonologists will prescribe appropriate medications, including bronchodilators and steroids, to effectively manage your symptoms and improve your quality of life. We may also recommend pulmonary rehabilitation, a well-established program available at Sequoia Hospital, where our offices are located. This program is designed to enhance your overall respiratory function, increase exercise tolerance, and provide coping strategies for daily activities.
In some cases, oxygen therapy may be necessary to improve your oxygen levels. Surgical interventions may be considered an option for individuals with severe COPD. However, our primary focus is always on exploring non-invasive approaches first, and we will discuss all available options with you in detail to ensure you are well-informed.
We understand that lifestyle changes play a crucial role in managing COPD, particularly quitting smoking. At Redwood Pulmonary, we listen attentively and empathetically to our patients, providing the support and guidance necessary to understand the stages of behavior change. Our goal is to empower you to make informed decisions about your health while providing appropriate interventions to promote positive outcomes.
Throughout your journey, we are dedicated to regularly monitoring the progression of your disease and adjusting your treatment plan as needed. Our commitment is to provide you with the highest level of care, ensuring that you receive the most effective management for your COPD.
We may order additional tests, including:
Pulmonary function tests
6-minute walk tests
Overnight oximetry
Chest X-rays or CT scans
These tests help us assess your lung function and overall health.
Request Your Appointment Today!
Redwood Pulmonary is committed to delivering comprehensive, personalized care to our COPD patients. With our expertise, compassionate approach, and access to a range of diagnostic tools and treatments, you can have confidence that you are in good hands.
To request your appointment, please call (650) 367-5636 or contact us online today!
For additional community resources, visit our glossary.
---
Our Location