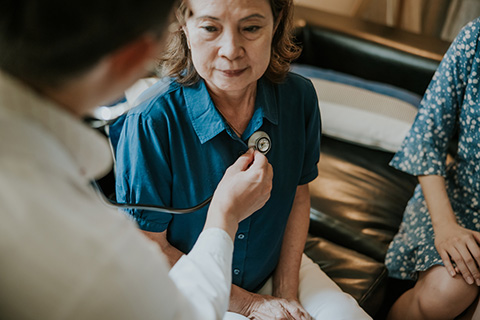 Lung cancer is diagnosed in over 230,000 Americans per year and over 2 million people globally - making it the most common cancer throughout the world. Unfortunately, compared to other cancers, it has a relatively low five-year survival rate and can be difficult to cure.
Lung Cancer Screening
At Redwood Pulmonary Medical Associates, we have a special interest in diagnosing and treating patients with lung cancer. Our practice participated in I-ELCAP, the International Early Lung Cancer Action Program, which promoted low dose chest CT (LDCT) scans as the most effective way to detect early stage lung cancer - when it is most treatable. Randomized clinical trials with LDCT screening demonstrated a significant reduction in the risk of dying from lung cancer, which has led to recommendations by the US Preventive Services Task Force (USPSTF) to screen for lung cancer with LDCT in adults ages 55-80 with a 20-pack year history of smoking who smoke or quit within the past 15 years. Additionally, Dr. Lim was an early member of the UCSF Thoracic Oncology Program, which brought together UCSF providers across several disciplines who treat people with this disease.
Coordinating Care
However, that model of care in the UCSF Thoracic Oncology Program is more challenging in a community setting where different specialists are not under the same roof. Here at Redwood Pulmonary Medical Associates, our providers are committed to coordinating the care of our patients who are diagnosed with lung cancer. We provide patient-focused care and communicate closely with other lung cancer specialists to build a team of dedicated doctors to meet each patient's unique needs. We often see patients with pulmonary nodules or other abnormalities on their chest x-rays or CT scans, while other patients may come to us with an established diagnosis of lung cancer.
When beginning their journey at Redwood Pulmonary, patients will meet with one of our doctors for a comprehensive examination and review of their medical history. Additional testing may include:
Labwork
Pulmonary function tests
Chest CT scans
PET CT scans
Bronchoscopy
Transbronchial or transthoracic biopsies
If appropriate, the patient may be referred to other specialists, such as a Medical Oncologist, Radiation Oncologist, Thoracic Surgeon, or other specialists in the field. Our physicians ensure that patients receive the most appropriate care for lung cancer in a timely manner, and will direct treatment for any other pulmonary disorders that commonly affect lung cancer patients, such as COPD, emphysema, and asthma. Our superior level of care coordination expedites communication among specialists and promotes one unified plan of care.
Request Your Appointment Today!
To request your appointment, please call (650) 367-5636 or contact us online today!
For additional community resources, visit the GO2 For Lung Cancer website.
---
Our Location