What is Interstitial Lung Disease?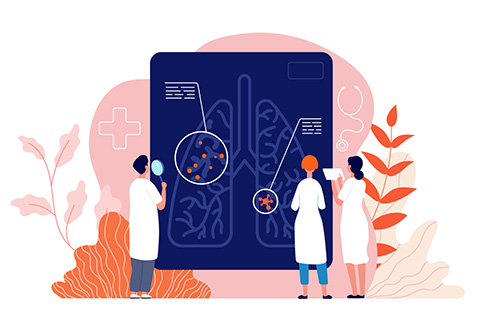 Interstitial lung disease (ILD) is a group of disorders characterized by scarring or inflammation of the lungs. While less common than conditions like asthma or COPD, it still affects a significant number of people in the United States, with over 200,000 individuals impacted.
Symptoms
Common symptoms of ILD include:
Shortness of breath
Dry cough
Fatigue
Unexplained weight loss
Clubbing of the fingers or toes
Diagnosis
At Redwood Pulmonary, we employ a variety of tests, including imaging tests, lung function tests, and occasionally a lung biopsy, to ensure an accurate diagnosis of ILD. Once a diagnosis has been established, our primary focus is on developing a treatment plan that slows the progression of the disease and effectively manages symptoms.
Treatment
Our treatment approach typically involves prescribing appropriate medications tailored to the underlying cause of the disease when known. We also offer pulmonary rehabilitation programs to enhance respiratory function and improve quality of life. Oxygen therapy may be used to improve oxygen levels. In severe cases, a lung transplant at a tertiary care facility may be necessary.
The category of "interstitial lung disease" encompasses a wide range of diseases that can affect different parts of the body. We meticulously evaluate each patient's clinical context and thoroughly analyze findings from high-resolution chest CT scans to accurately classify the disease. In certain cases, further diagnostic tests may be required to ensure an accurate diagnosis.
We work in collaboration with a diverse team of specialists and renowned tertiary hospitals, including the University of California, San Francisco (UCSF) and Stanford University, to obtain second opinions and consultations when necessary. A prompt referral to a lung transplant program may be lifesaving for patients with worsening Idiopathic Pulmonary Fibrosis/Usual Interstitial Pneumonitis (IPF/UIP).
Commonly ordered tests during the diagnosis and management of ILD include:
Pulmonary Function Tests
CT scans
6-Minute Walk Test
Lab work
Request Your Appointment Today!
At Redwood Pulmonary, we are committed to providing exceptional care for patients with ILD. Our multidisciplinary approach ensures that each patient receives personalized attention and the most effective treatment options available.
To request your appointment, please call (650) 367-5636 or contact us online today!
For additional community resources, visit our glossary.
---
Our Location